I kind of like writing about the trip that I went... it's nice to read about it when a few years down the road, or just a couple of months later.
Anyway, I'm grateful for given an opportunity to visit HK again, and the best part is... I'm on a fully sponsored trip, but of course not on the days I opted to extend, also I get to learn :)
Boss was generous to recommend me for a 5 days training to HK and I grabbed the opportunity to cover the places that I missed the last time.
Day 1 in HK:
Took the 9++ am flight from KLIA, touched down in HK at about 1-2 pm. Took the hotel bus shuttle (cost HK$ 130 per pax) and reached hotel at about 4 pm. Training was not scheduled till the next day, so another colleague of mine & me went out scouting the bus stop. Had to get a bus to Cyberport for training the next day... better be a bit more kiasu than late right.
Thereafter, saw the famous green-colour tram with the sign "Causeway Bay". Oh well.. we just jumped on it and off to Causeway Bay. Erm.. we didnt even check the which stop we were at before boarding it. :P
Sunday at Causeway Bay was FULLY packed. As I was walking down a road, I saw the sign the reads, "Luruskan rambut - $xxx". It took me a while to register that I was not in KL. Wow... there is actually BM in HK. But well... a few minutes later, I'm not surprise anymore. Causeway Bay on Sunday was packed with Indonesians!!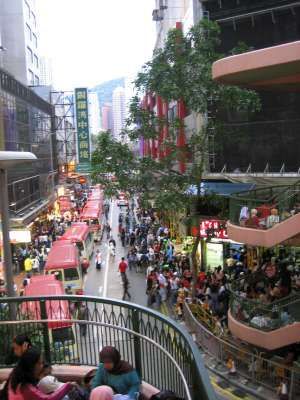 See for yourself! I took the picture from an overhead bridge in Causeway Bay. It was like a mass picnic. Read from somewhere that Causeway Bay was suppose to be like Orchard in Singapore or Bintang in KL. Really??
Well... hold that thought, it really was, if I were to go another part in Causeway Bay.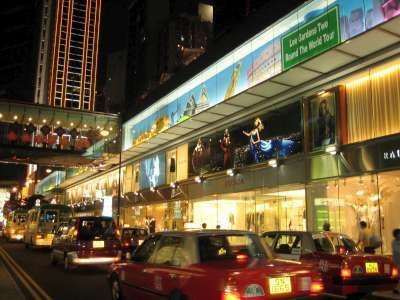 Stretches and stretches of branded shops. Ah.. and the temperature is just fine. Walking without jacket and no sweat!
However these shops are just too expensive for us, for me at least. So we decided to take off and went off to Wan Chai, just to see the Lockhart Road where it house bars, pubs, etc.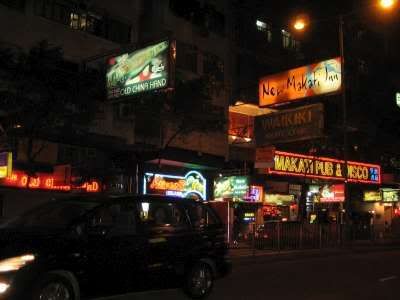 Thought I might be able to drop by Tai Yuen Street in Wan Chai for a while, might be able to grab some toys for my nieces. But well... we were just a little too late. Many of the shops were already closed, if not shutting.
After walking a bit in Wan Chai, we decided to call it a day and back to hotel for a rest. After all, had to wake up early to take a 30-45 mins bus from Sheung Wan to Cyberport.
Side note: I better get back to my studies, exam due on Monday... :P