The main reason I was at HK was this training. This 5 days training was held in Cyberport. As the name suggested, sort of like IT hub. Likewise our Cyberjaya, the company which trained us had their IT stationed there, as well as their training academy.
I have not been to Cyberjaya but was told, ahem... Cyberport more advanced than Cyberjaya lor.
This is the outside of the building where we had our training. It is basically a mall but attaching to it, a IT hub/business centre.
Going in, would passed through a passage looking out to scenaries of Cyberport, overlooking Lamma Island (I was told, but getting there would need to take ferry from Central, unless of course, you chartered your own ferry/ship)
Anyway, to reach to the lifts, one would passed by teleconferencing rooms, flat screen TVs...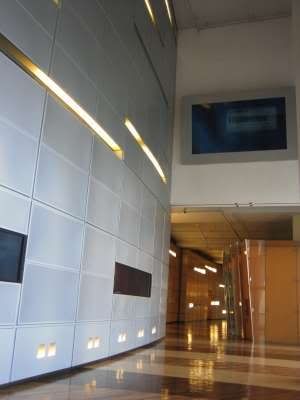 Looking out from the glass panels, one would notice of high rise building, trees...
Side note: *phew* Exams finished. Had a fulfilling dinner at Dontaku :P