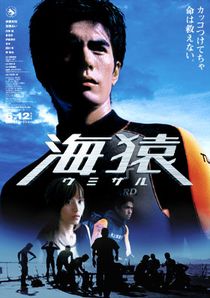 Question of the day:
If you and your buddy are alone at the sea, 40 metres deep, 30 bars of oxygen, what would you do?
That was the question posed to 14 trainees who wants to be a part of Japanese Coast Guard's elite team of salvage and rescue divers.
I would not complain of the bad day i had yesterday, or the 2 rounds i have to go before locating the motorcycle parking lot, or i was way, way thirsty the whole 2 hrs of show (almost - my big fat brain forgot to pack water & ran out of time to buy 1), or that the cinema is HOT.
I don't know how to swim, let alone scuba dive, and dont know japanese and my chinese sucks. BM & English subtitles are sometimes off the meaning. But i love the show. It was a really cool movie. It's a simple story on courage, friendship & life. If you are those very demanding of great story, then this might not be your cup of tea. It truly is simple, potraying daily lives.
In the middle of the story, the girl ask the boy, "Why do you like to be a coast guard?". The boy replies, "Because I like sea." Gosh, i wish i was like him, know what i truly likes & do something related to it. Could i answer that right now? I dont, cause i really dont know.
Well, here's a link to a
review & summary plot
. BUT, please dont click on it if you are going to watch it. :)
Official site link