I dont remember exactly when i last wash my bike. Ok.. you are allowed to open your mouth wide big... but due to certain inconvenient, i have sort of given up to wash it... and yes, you are allowed to scold me (should you be near me). Seriously, give it a thought, dont you think staying in non landed house makes it kind of hard to wash my bike. Of course, i have never seen people sending motorbike for washing, at least not in KL (had vague memory that my friend paid someone to wash it in Alor Star previously).
My mother used to nag me and commented that in the whole stretch of bikes parked, my bike is the dirtiest. Well, please dont misunderstood me, i certainly dont enjoy the "compliment". But at that time, i really didnt think it is that dirty. But that was ages ago, nowadays my mother never nags at me not washing my bike, simply because she has not seen it. :D
Anyway, somehow, out of the blue, I suddenly noticed that my bike is rather dirty. Ok, just imagine a very lazy me found out that my bike is dirty. Probably one of the factor i never realised was that i see my bike from side or from the back, which does not appear so bad. I dont remember why i look at it from the front view.. and there... i noted of the dirtiness... Well, since i also cannot tahan already, asked for a huge favour from
Piggy
and Froggy, told them that i need to wash my bike at their house. (Note: I'm staying at a apartment and cannot ride my bike in, no motorbike parking and some lame, long reason which i shall not elaborate now). Piggy then also told me that she imagine my bike was dirty... hmmm... so it is time for bike bathing.
To keep the story short, i made an appointment with
Piggy
& Froggy to wash my bike at their house just now and it is now - i proudly announce CLEAN and i certainly hope that it shall stay clean for a very, very long time...
Here is the before & after picture... ;)
Before...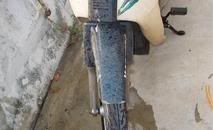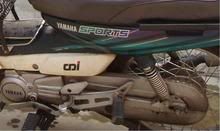 After...