Well.. it was so-name by one of my colleague when she noted that I was going to Sham Shui Po and Cheung Chau. Oh well...not that its really rural rural but comparatively to the HK island, Kowloon ... it might be.
After checking out of the hotel in Sheung Wan, I took the MTR to TST and checked in to a budget hostel in Mirador Mansion. Despite the very notable size of the room but it is a very, very convenient place - with Star Ferry Pier within a short walking distance, MTR station almost next to it and KCR station down the road.
Sigh... sad to say that I miscalculate on the time, not expecting that it would be really dark by 7 pm. By the time I left the budget hostel it was already about 1 pm, also I had to change more $$ as initially wanted to pay for the room via credit card but somehow it cant went through and I paid with cash. Anyway as I wanted to spend more time in Cheung Chau, I decided to go to Sham Shui Po first.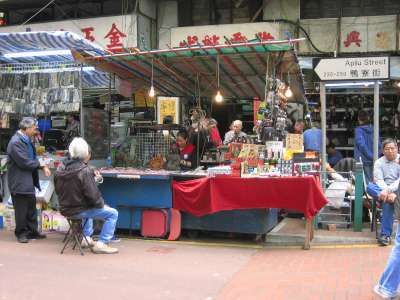 ~ Stalls selling electrical stuff in Apliu Street
By the time I left Sham Shui Po, it was about 3 pm. Took the MTR back to TST and walked to the Star Ferry Pier. Took the Star Ferry crossed over to Central and walked to Pier no 5 which would take me to Cheung Chau. The journey is about 40 mins to an hour. So by the time I reached Cheung Chau its about 4++... sigh...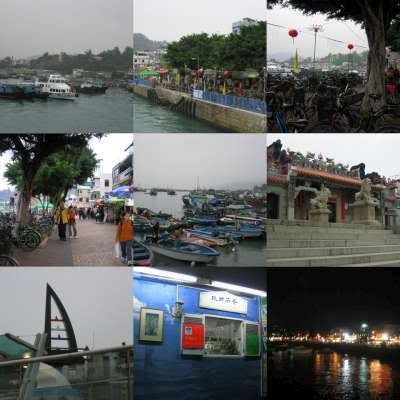 Top row (L-R): Overlooking from Cheung Chau are ferrys and boats, taken from the ferry itself, bicycles and bicycles parking at the side of the road
2nd row (L-R): Main street in Cheung Chau (Praya Street), hehe.. another on the boats, Pak Tai Temple
3rd row (L-R): Wind surfing centre, Hometown Teahouse run by a lovely Japanese lady - sushi, tea and red bean cake is served during teatime for HKD 20, night view of Cheung Chau from the ferry
By the time I finished walking around Cheung Chau town, it was rather dark though only at 7 ++ pm. Wanted to venture off further, however as it was rather dark with limited street lights, I dare not go off from the town area. :(
Side note: I miss the red bean cake by Hometown Teahouse in Cheung Chau :