The organisers of the training are really a bunch of understanding people. Understood that we would love to go walkabout after training. So on day 2 of training, there was this evening activitiy scheduled for us.
The initial plan was to bring us up to The Peak and enjoy the breathtaking nice view. However, the sky has not been very kind with mist covering single building/view. Hence changed of plans to a short trip to Repulse Bay and Stanley. In a way, it was lucky for me as I did plan to go to Repulse Bay and Stanley on one of the days. Oh well.. in the end, I did return again to Stanley as we only dropped by for a very short 15 minutes and even the Stanley Market already closed for the day. As for Repulse Bay, I make do with the short stop.
We travelled from Cyberport on a chartered bus to Repulse Bay.
Repulse Bay (淺水灣, lit. Shallow Water Bay) is an area in the southern part of Hong Kong Island, located in the Southern District, Hong Kong.

The well-known Repulse Bay Beach is located on a beautiful bay with a long line of coast and smooth sand. It is a Grade 1 beach for its good water quality. In addition, large waves rarely hit the beach, making it an ideal place for swimming.

If to reach by public transport, there are buses via Central to Stanley such as 6, 6A, 6X, 260.

~ Info from
http://en.wikipedia.org/wiki/Repulse_Bay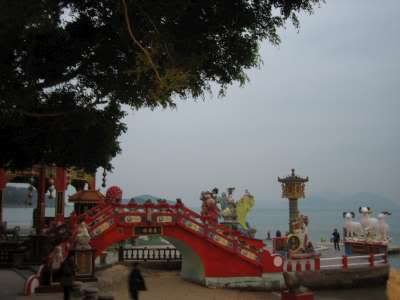 ~ the famous bridge at Repulse Bay.
Pilfered this picture from
Wikipedia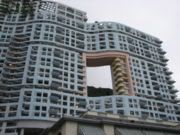 One of the organiser told me that if I am to take a bus to Repulse Bay, need to get down from the bus when I see this building. As for the hole, it is said for feng shui. Something like dragon looking at the mountain behind through the hole and good feng shui.
After a short while of walking around, we left in the same chartered bus to Stanley before proceed to have dinner in Causeway Bay. No shopping, just loitering around in the cold wind... its nice :P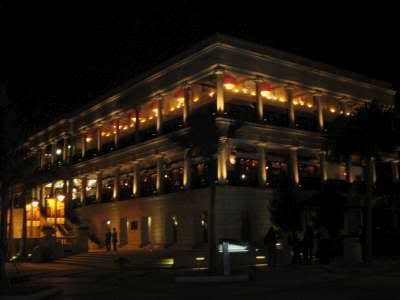 ~ The Murray Building, at night.
Murray Building was once a government building in Central, it was dismantled in 1982 to make way for new buildings. The facade was stored in a warehouse after the building was dismantled, and the facade was rebuilt in Stanley in 1998. It was open to the public in 1999. It houses several restaurants and the Hong Kong Maritime Museum (see below). When it was rebuilt, the ink used to label the pieces had washed off, and when they had finished constructing the building, they had six columns left over. These columns now stand outside the building.
Info from: Wikipedia
After 15 minutes in Stanley, we had a very full dinner in Causeway Bay
Side note: I think I need another battery for my camera...